IMPULSELINE HOOFBOOT
---
The IMPULSELINE Hoof Boot combines our pulsed magnetic field with vibrating massage. Developed for targeted localised used on the hoof with varied treatment options through the combination of pulsed magnetic field and massage. It envelops the entire hoof from the sole and corona to the pastern.
---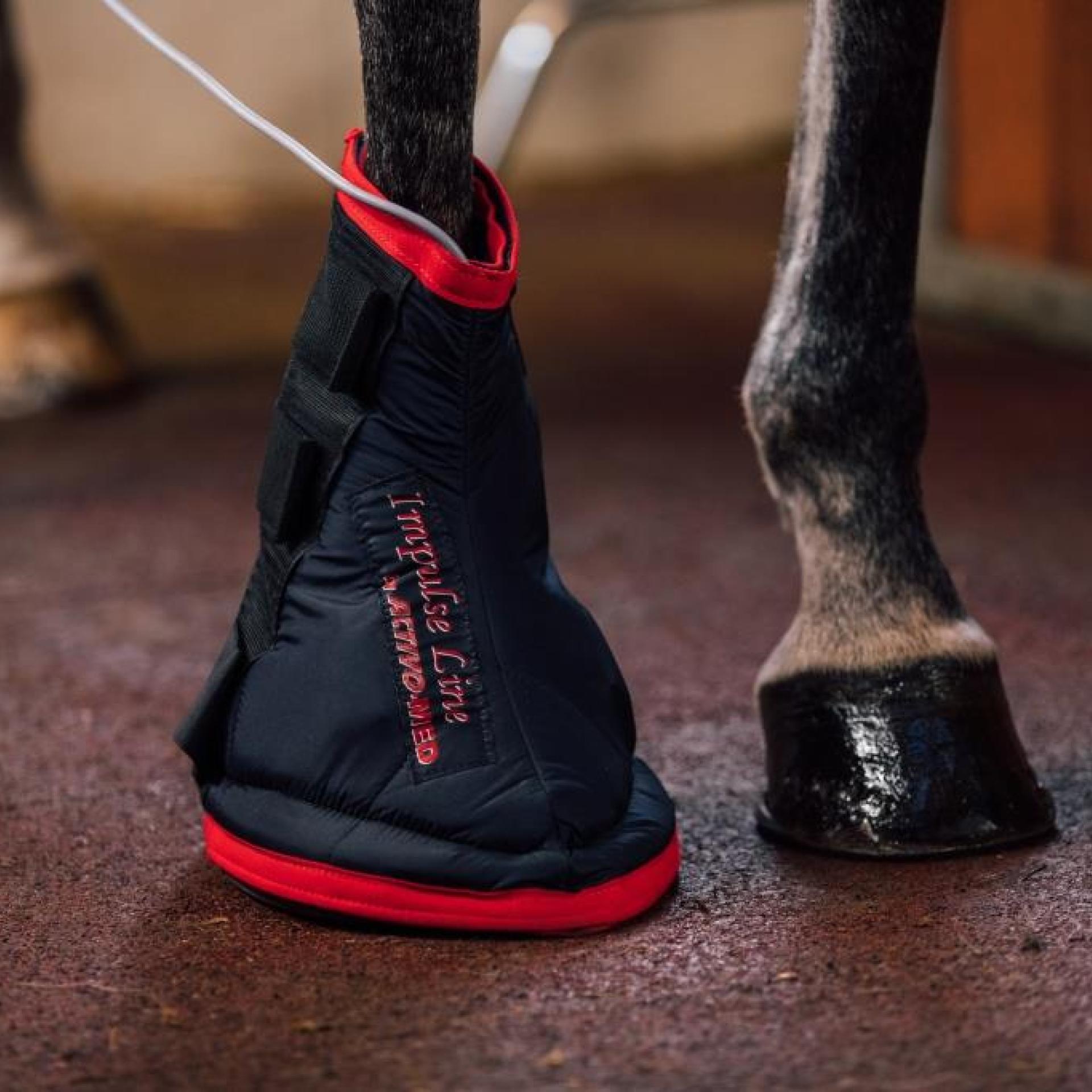 Details:
---
Excellent comfort and fit through flexible adjustment
Breathable materials
Versatile and easy transport
Robust and resilient
Long-lasting
Intuitive operation
Can be easily used anywhere
Allowed at all international FEI competitions
Made in Germany
ex works 1666,00 € incl. Tax
IMPULSELINE Hoofboot
---
Each Hoof Boot has a smooth, dirt-resistant outer surface that keeps dirt at bay. This surface can be cleaned easily with a damp sponge. 
A horse's hooves have to bear its entire weight and sometimes that of a rider as well. Changes or injuries to hooves can occur repeatedly over the course of a horse's life.
Changes to the hoof, including laminitis, hoof cracks, abscesses, or injuries to the corona or podotrochlear region often require veterinary treatment, because healthy hooves are essential for horses over their entire lives.
The Hoof Boot is operated through the Compact multifunction control box which is placed in the pocket to be attached to the accompanying surcingle.
Choose from 18 preset programmes and 8 sequences for more individual configuration in your horse's treatment. It also has additional programme settings so that you can, for example, change programme duration or intensity. The pulsed magnetic field has a strength of up to 7,800 microtesla.
Scope of delivery for the IMPULSELINE Hoof Boot includes hoof boot, charging/control box, and transport/storage bag incl. programme documentation.
FAQ IMPULSELINE Hoofboot 
---
How many programmes does the Hoof Boot have?
18 preset programmes and 8 sequences
 
How many applicators does it have?
Does the Hoof Boot come in other versions?
Without control box, as component of an existing system  
With control box
 
Which control box comes with the Hoof Boot?
The Compact multifunction control box, optionally with the Professional
 
Does the Hoof Boot come in different sizes?
What is the Hoof Boot used for?
Treatment of hoof and fetlock joint.
Designed for the following uses and areas:
Prevention
Regeneration
Tendons and joints
Internal organs
Muscles
Skeletal system
Nervous system
Vascular system
Tip:
These Hoof Boots are used by many equine therapists, vets, and hoof care specialists
Some horses may need to become accustomed to wearing the Hoof Boot
Because some horses need to become accustomed to vibrating massage on sensitive parts of the corona, we recommend increasing massage intensity gradually